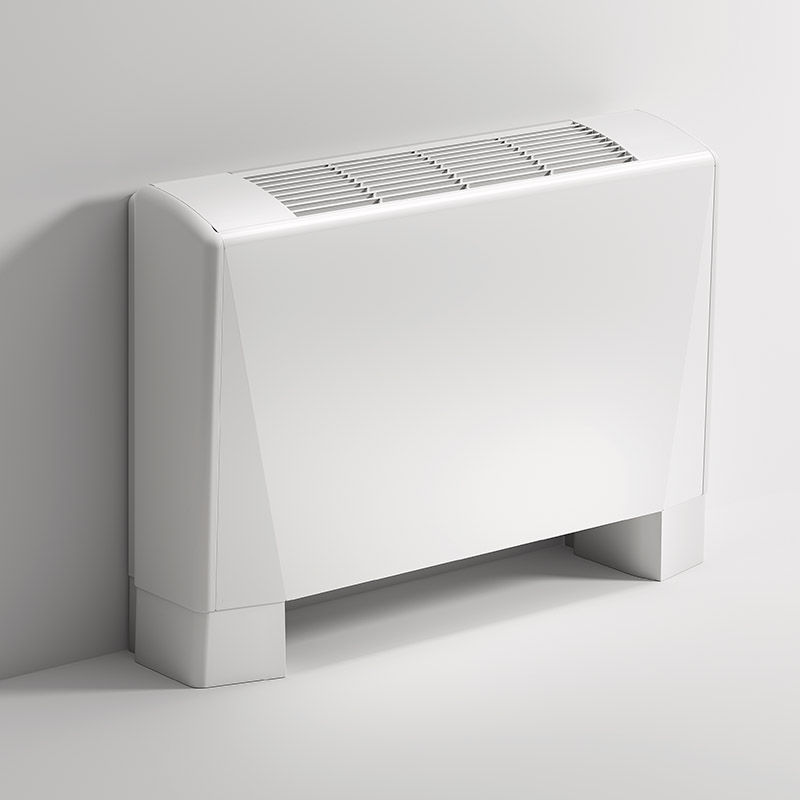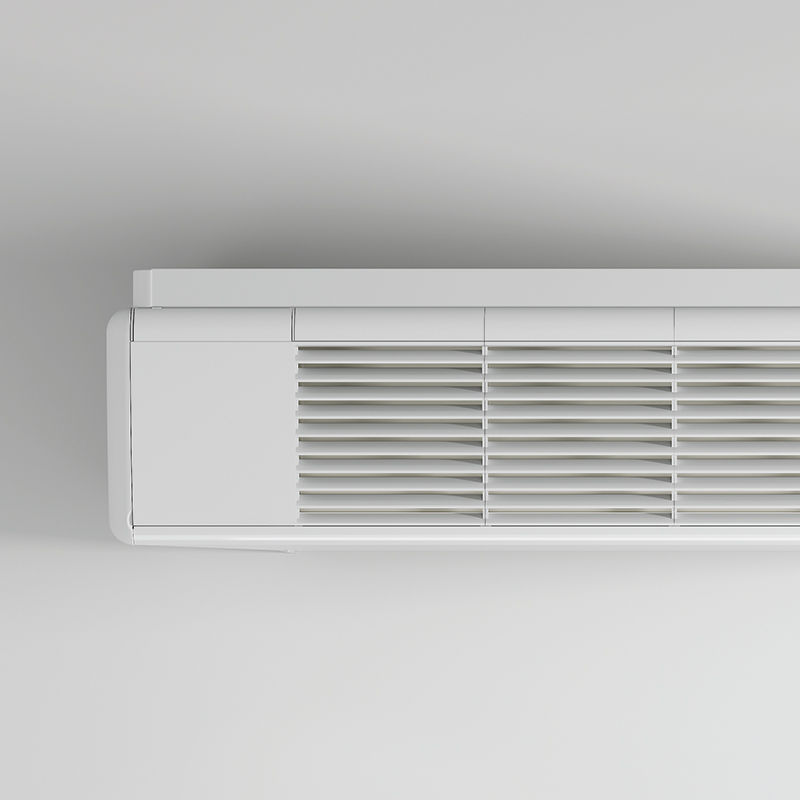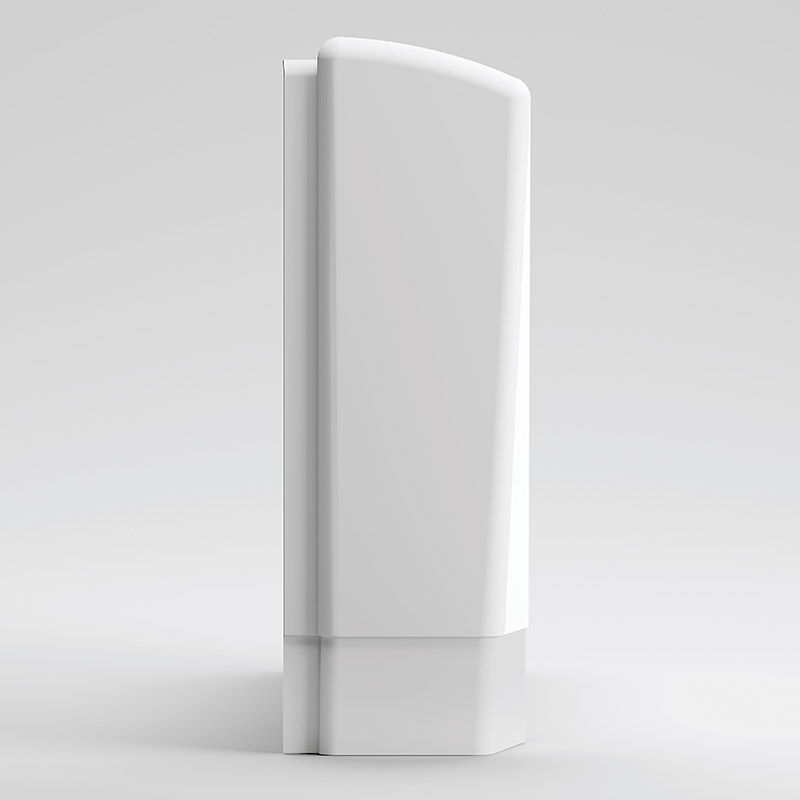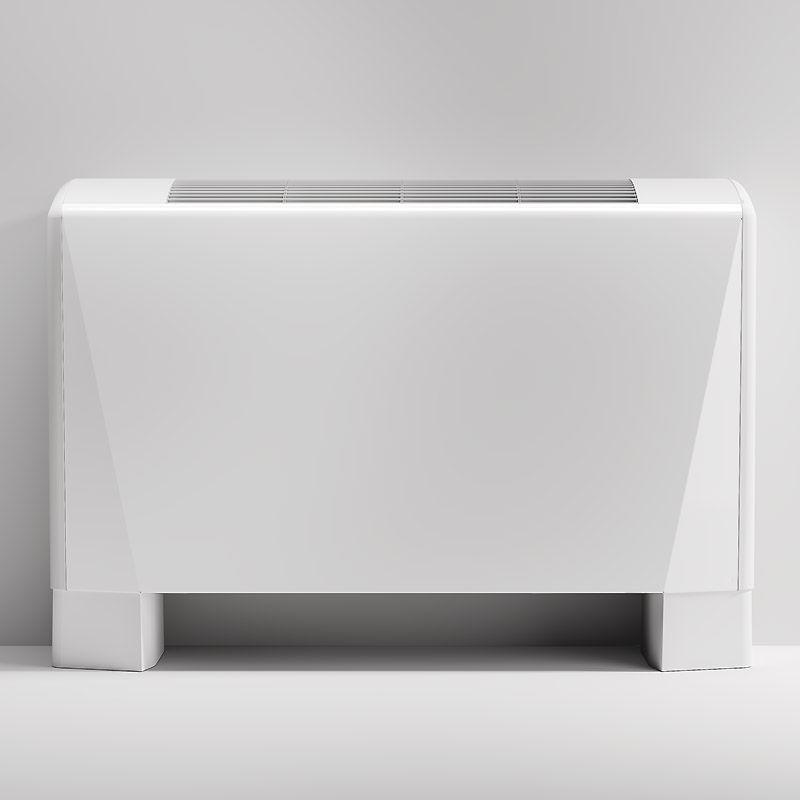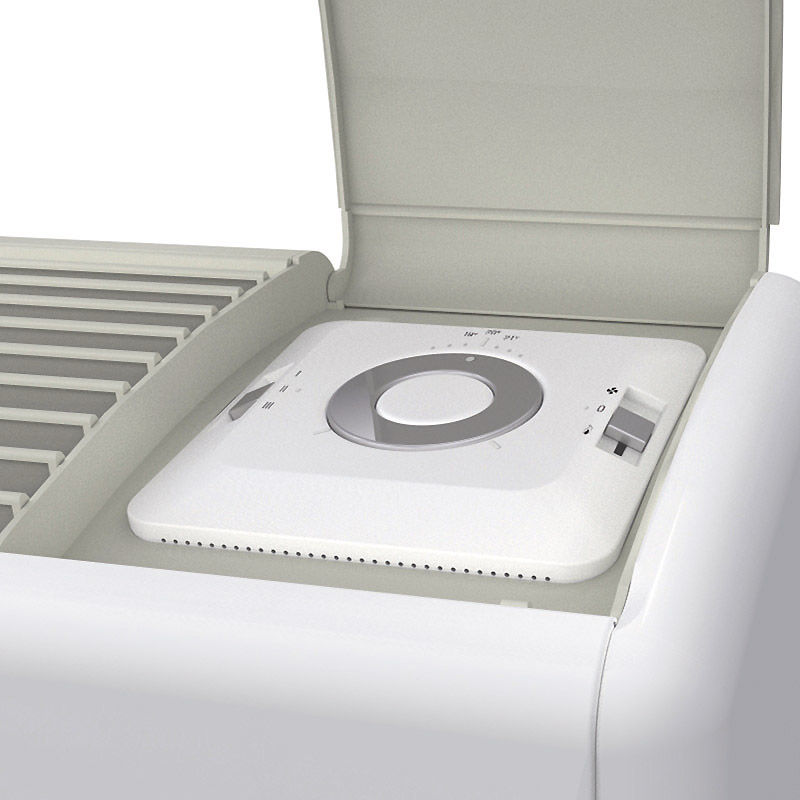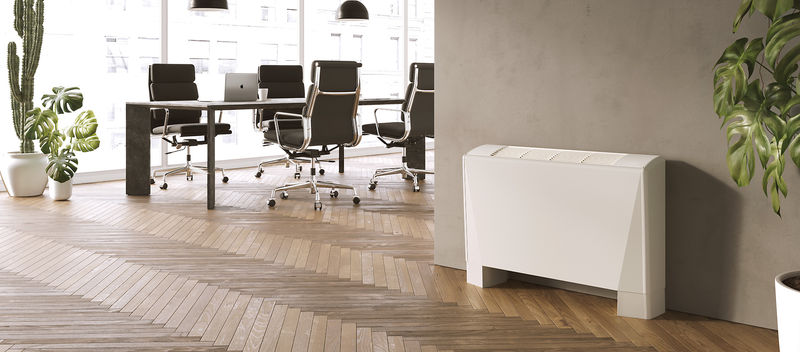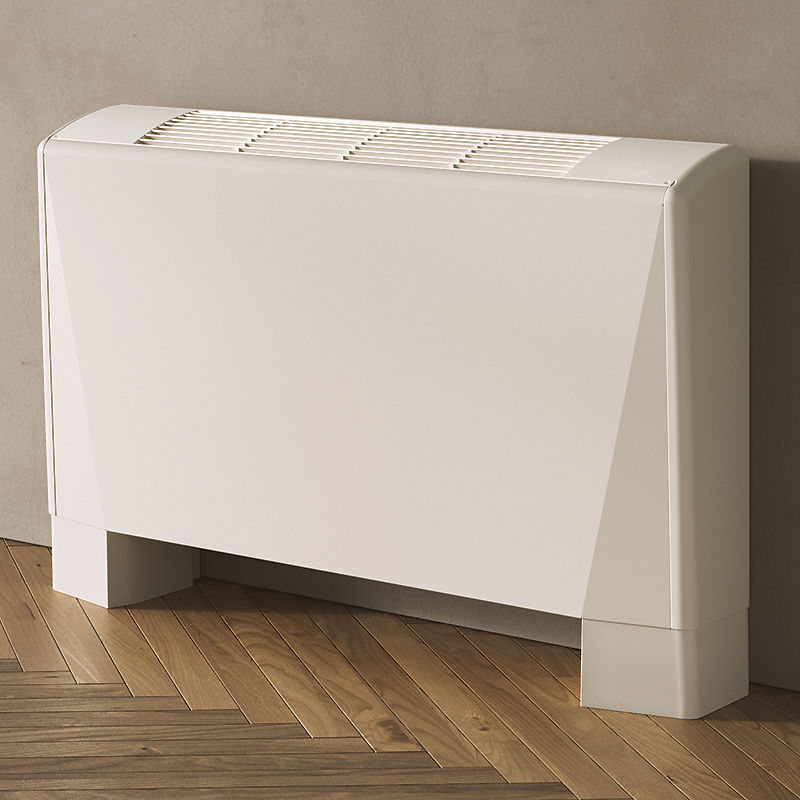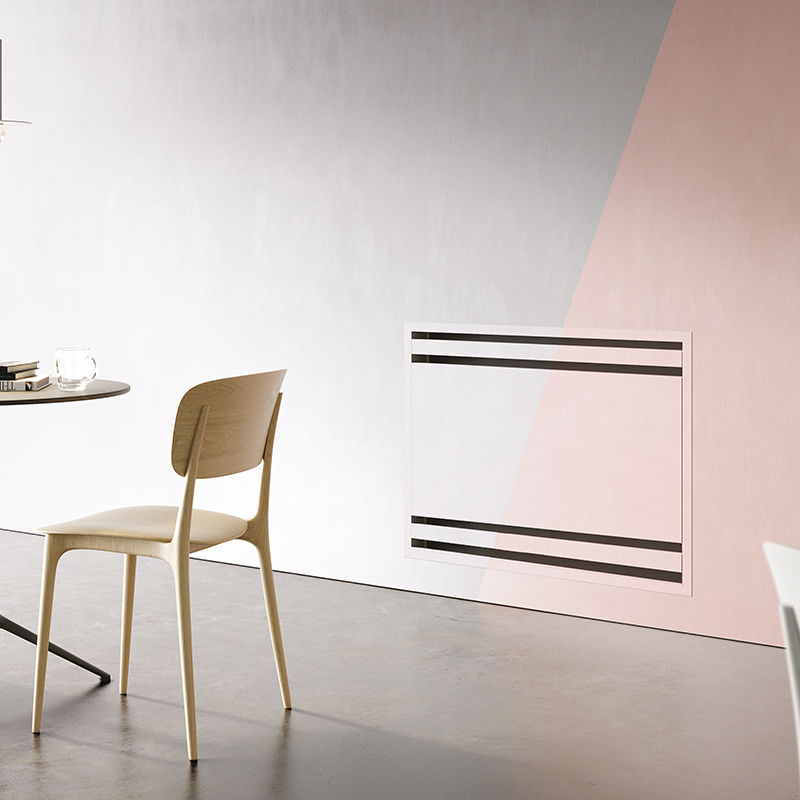 AIR / AIR-ECM
Centrifugal fan coil units
Design and performance, with maximum silence.
Compact fan coil with low thickness, which is characterized by the perfect combination of design, efficiency, performance and the lowest sound emissions of all time, which allow this series to be placed at the top of the range.
Available in 10 sizes and 4 versions (M/MF/I/IF) with 3 or 4 row heat exchange coils for 2-pipe systems, 1 or 2 rows for 4-pipe systems. The wide range of optional motors also makes it possible to reach ducted installations with load losses up to 60 Pa.
A wide range of controls and accessories allows us to provide solutions for any installation requirement.
0,5 ÷ 9,0 kW
0,5 ÷ 9.8 kW
61 - 1670 m3/h
ECM - Energy saving up to 50%
Identity
Sophisticated design and maximum level of silence:
the AIR series represents the perfect combination of innovation and design, where the technological choices adopted allow to achieved maximum comfort with maximum level of silence. Furthermore, the particular research on design guarantees refined and minimal forms, which ensure a discrete integration in any application context, be it modern or traditional.

Bearing structure: 
structure in Z200  hot-dip galvanized steel sheet 0.8mm thick, insulated with 5mm-thick closed cell polyolefin-based insulation. Condensate drain basin in the shape of an "L" in Z140 hot galvanized sheet  pre-painted 0.8 mm thick and insulated with 3mm-thick closed cell polyolefin-based insulation, complete with connection for condensate drain external Ø 20 mm.

Cover cabinet:
Cabinet in  hot-dip galvanized steel sheet and pre-coated with a polyvinyl chloride film to guarantee high resistance to corrosion, pure white RAL 9010.
The sides, the air diffusion grilles and the flaps are instead made of injection-molded reinforced ABS and opaque white color.
Other colors and special finishes available on request.

Filter:  
of standard supplied regenerable filter with galvanized steel frame and polypropylene filter fabric with efficiency class G1 * / EU1 **. Alternatively, a wide range of filters with greater efficiencies are available, including G2 * / EU2 ** and G3 * / EU3 ** or the innovative electronic filter that allows a complete purification of the air and at the same time ensures high efficiencies thanks to minimum load losses. (* according to EN779 / ** according to Eurovent)

Fan section:
consisting of double intake centrifugal fans, with impellers in aluminum, or ABS statically and dynamically balanced, directly fitted onto the motor shaft. Single-phase asynchronous electric motor with overload protection, 6 rotation speeds (3 of which are connected). The motor is directly coupled to the fans, and cushioned with elastic supports for the benefit of low noise. The AIR-ECM series is instead equipped with innovative Brushless ECM motors, high head motors or motors with fail contact.

Coils: 
Copper tube coil with aluminum fins with continuous pack blocked on the tubes by mechanical expansion. Brass manifolds equipped with Ø 1/2 "~ 3/4" female gas connections and easily accessible air vent valves. Hydraulic connections positioned on the left (front view) on request supplied on the right. The coils are reversible, so the connection side can also be reversed on site. The heat exchange coil is not suitable for use in corrosive atmospheres.

Cables LSZH Halogen Free (optional):  
the series, on request and where possible, can also be supplied with halogen-free LSZH electric cables, therefore with low emission of fumes and toxic gases, for particular types of installation where it is necessary to guarantee maximum user safety.

Customization: 
our engineering is able to satisfy any customization requirement, ranging from simple aesthetic finishes to the satisfaction of specific dimensional, performance or application constraints.

Electronic Filter "Pure Life System"
Pure Life System consists of a two-stage filtration module that can be integrated directly into the AIR series, the fact that the solid particles contained in the air flow are precipitated by the action of an electric field  that retains the polluting particles and microorganisms dispersed in the air, such as bacteria, viruses and spores conveyed by such particles. 
Through a potential difference generated between the emission and collection electrodes, the pollutants are precipitated, captured and retained by special collection grilles, obtaining healthy and completely purified air.
Versions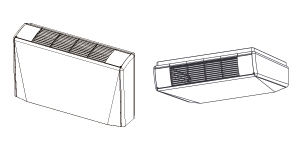 AIR x M
Centrifugal fan coil unit Frontal cabinet Vertical/horizontal installation Bottom air intake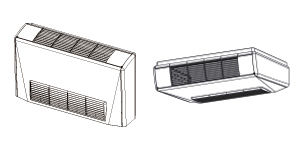 AIR x MF
Centrifugal fan coil unit Frontal cabinet Vertical/horizontal installation Frontal air intake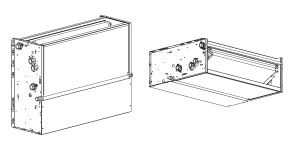 AIR x I
Centrifugal fan coil unit Concealed version Vertical/horizontal installation Bottom air intake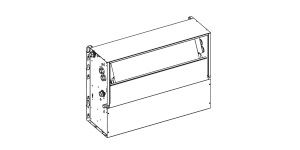 AIR x IF
Centrifugal fan coil unit Concealed version Vertical installation Frontal air supply
Applications

Residential

Commercial

Hospital

Museum
Certifications
Download
Product Catalog
Installation Manual
Technical manual
CAD
Subscribe to the newsletter
Stay always up to date on all
the news and the initiatives of Aliseo Group