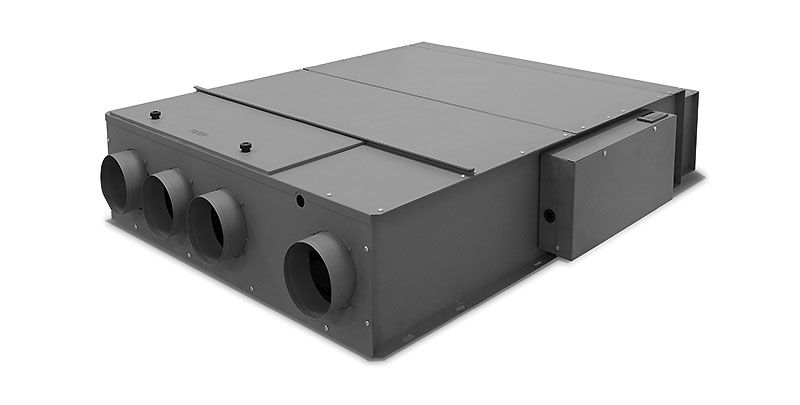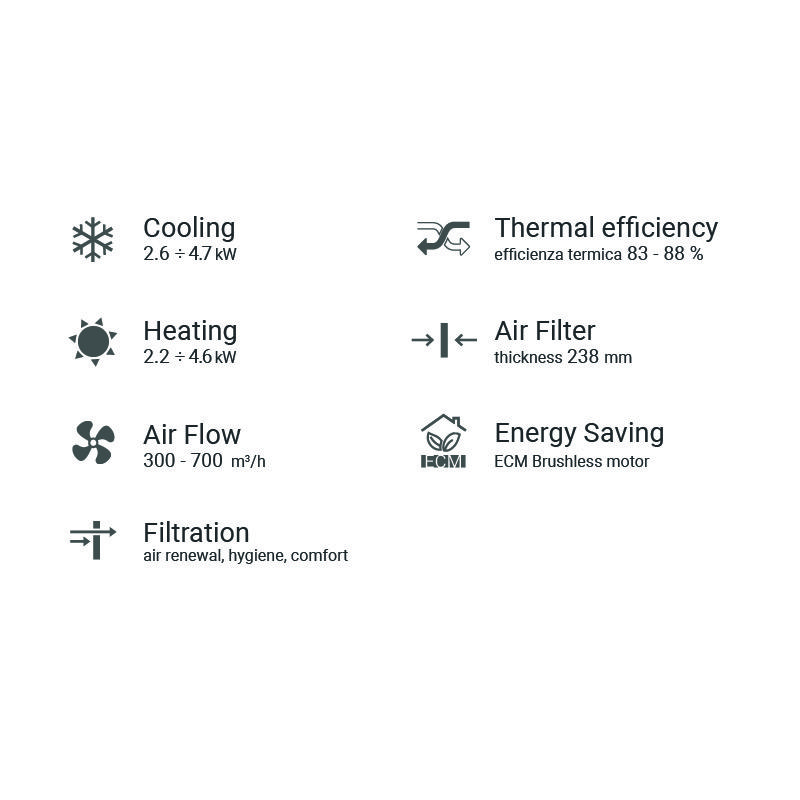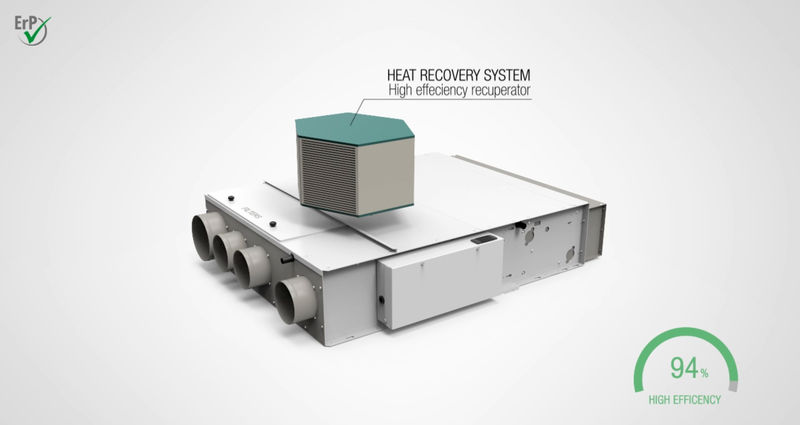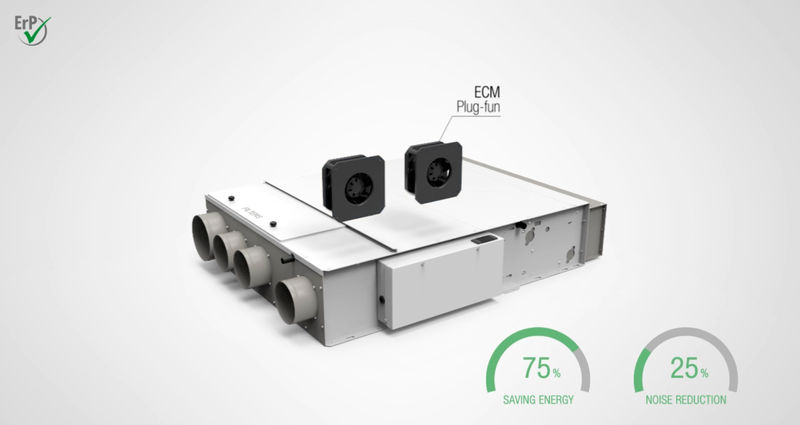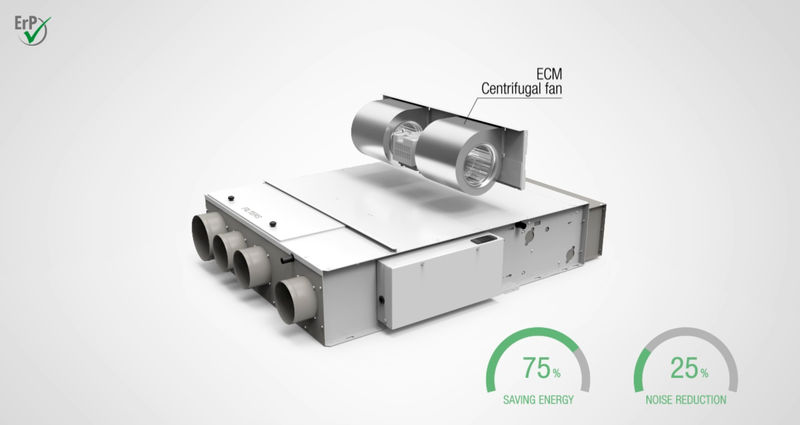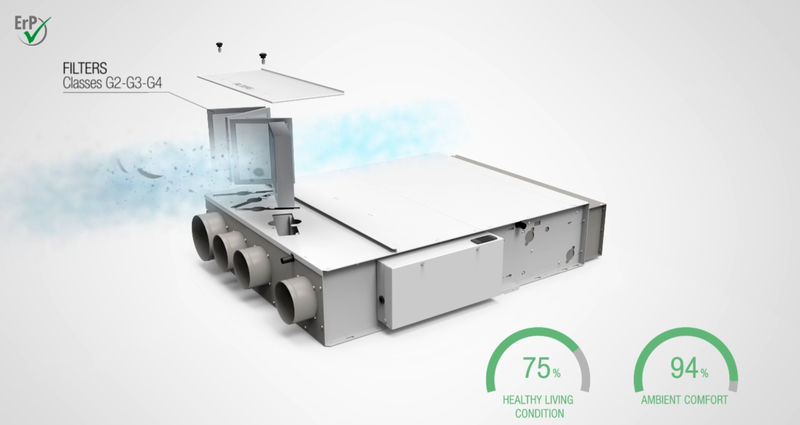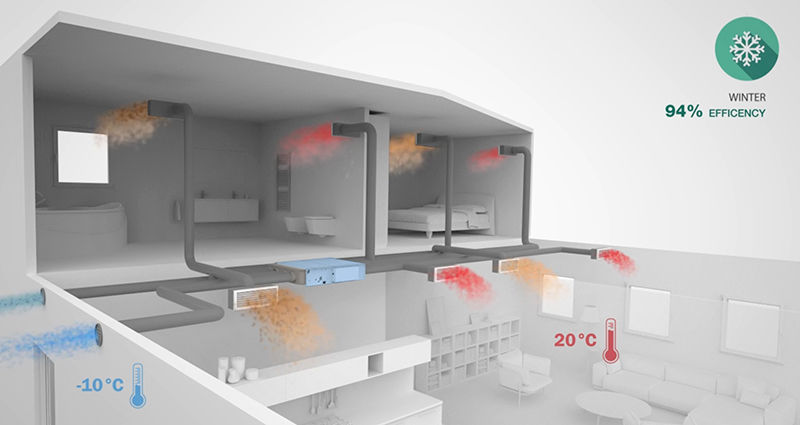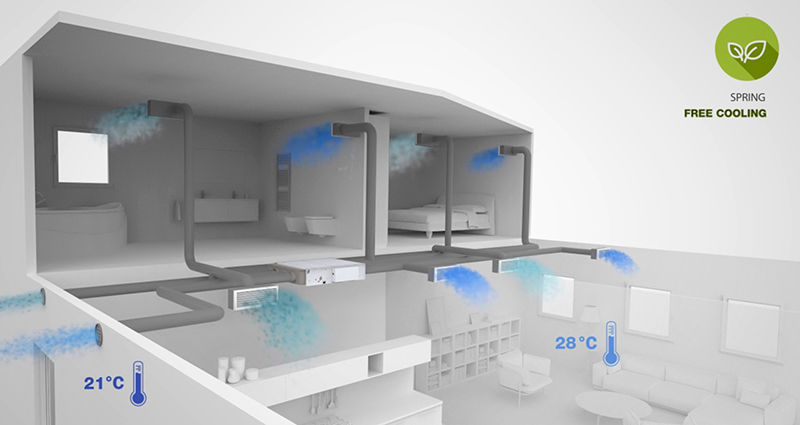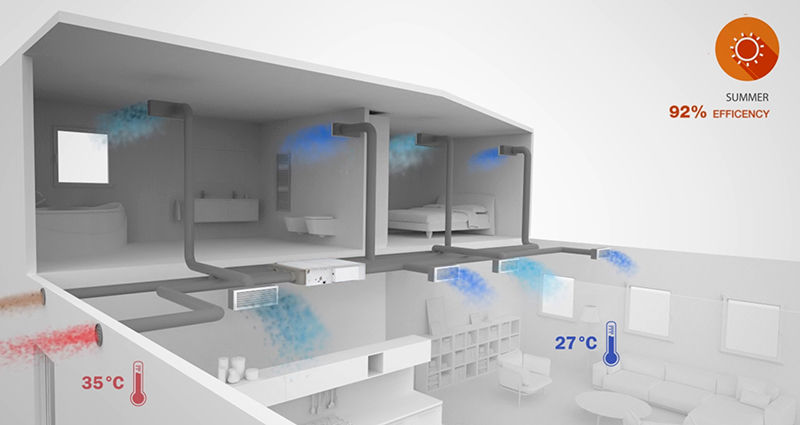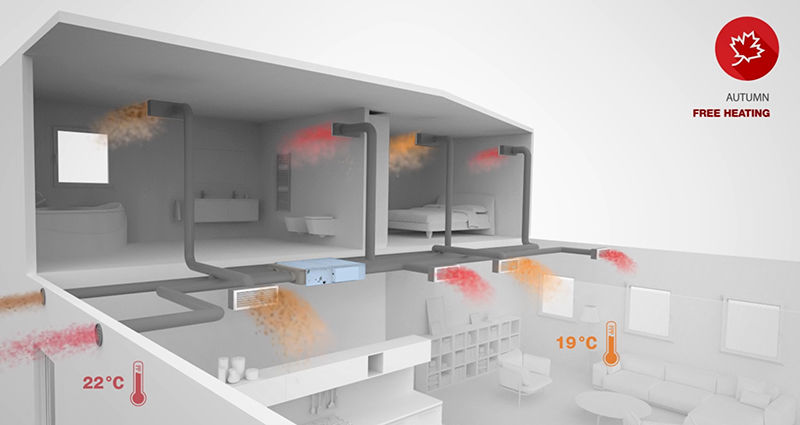 DOUBLE-ECM
Heat recovery units
New-generation comfort and efficiency.
​DOUBLE-ECM incorporates, in a single unit of extremely compact size and a thickness of only 238mm, the part of thermal recovery with the part of the air treatment dedicated to heating, cooling with dehumidification and proper filtration while guaranteeing the operation in free-cooling and free-heating mode.
2,6 ÷ 4,7 kW
2,2 ÷ 4,6 kW
300 - 700 m3/h
83 - 88 %
ECM - Energy saving up to 50%
Identity
With the advent of advanced building technologies, the housing units of new conception are becoming increasingly insulated with direct consequence of limited thermal loads required to achieve the desired comfort. At the same time, thanks to the absence of dispersions, is essential a constant air regeneration through a controlled mechanical ventilation system to ensure appropriate air quality in the environments. Nowadays, the use of the living spaces reflects new frantic and unpredictable lifestyle. A flexible system turns out to be a winning choice, to enable an optimal management of environmental comfort according to real needs, with extremely fast response times, without unnecessary waste.
The ideal solution to meet all these requirements in a simple, practical and economical way, is the conception of the new DOUBLE-ECM unit, a high efficiency air conditioning system capable of heating, cooling with relative dehumidification, filter and renew the air with integrated recovery even in free-cooling mode and free heating due to the By-pass automatic function.All this with a single compact unit, able to fully replace the traditional systems in residential/commercial environments with surfaces up to about 120 square meters and suitable for zeroimpact installations such as false ceilings or technical rooms.
Available in 2 different sizes, 300 m³/h and 700 m³/h, for vertical or horizontal installation, and cooling capacity from 2,6 to 4,7 kW, heating from 2,2 to 4,6 kW
Structure
Galvanized steel sheet (10/10 mm thick) insulated in all parts in indirect contact with the conditioned air. Insulated condensate tray made of galvanized steel sheet, complete with drain plug for complete drainage. Sides with knock-outs for fast fixing of accessories. Wall/ceiling-anchoring slots for easy fixing and levelling of the unit. Wide range of accessories available, such as plenum and section with spigots.
Fan group
Double-inlet centrifugal fans type ECM brushless with statically and dynamically balanced horizontally-oriented aluminum impellers, directly coupled to the fans and cushioned with flexible mountings to ensure low noise. Thermal recovery part equipped with Nos two ECM plug-fan type, as a guarantee of an excellent reduction of energy.
Recovery unit
Air-to-air high efficiency polystyrene static recuperator.
Air filter
Filtration system composed by air filters class F7 for primary air, M5 for the recir­culation airflow, and G2 for expulsion air to safeguard the recuperator.
Coil
Coils are made of copper pipe expanded into aluminum fins in continuous block. Brass headers with female fittings (GAS threads) and easily accessible air vents.
In the standard version, the water connections are located on the left (when viewing the outlet). They may be supplied on the right on request.
Versions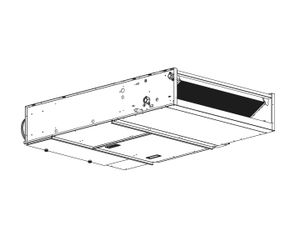 300 - H
Fan coil unit with integrated recovery unit Nominal airflow 300 m3/h Recovery airflow 80-150 m3/h Horizontal installation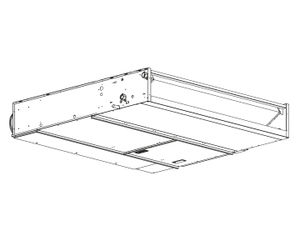 700 - H
Fan coil unit with integrated recovery unit Nominal airflow 700 m3/h Recovery airflow 80-150 m3/h Horizontal installation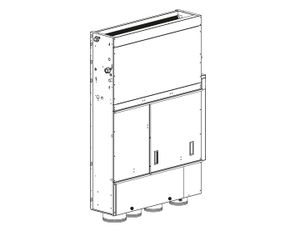 300 - V
Fan coil unit with integrated recovery unit Nominal airflow 300 m3/h Recovery airflow 80-150 m3/h Vertical installation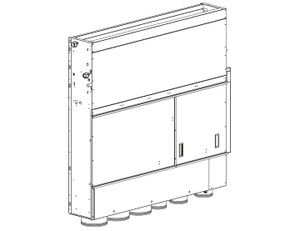 700 - V
Fan coil unit with integrated recovery unit Nominal airflow 700 m3/h Recovery airflow 80-150 m3/h Vertical installation
Applications

Residential
Certifications
Download
Product Catalog
Installation Manual
Technical manual
Subscribe to the newsletter
Stay always up to date on all
the news and the initiatives of Aliseo Group