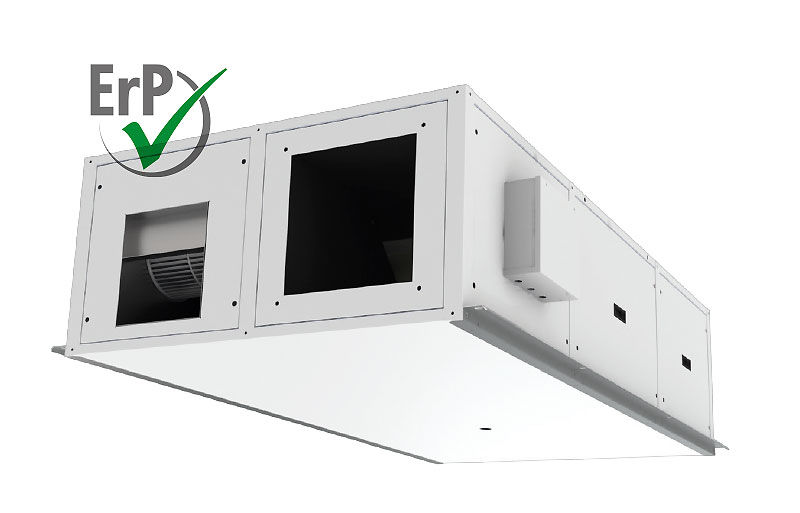 EBF-SHE/HHE
Heat recovery units
High efficient and energy saving.
The EBF-SHE/HHE series of heat exchanger has been developed in order to guarantee a comfortable and healthy environment aiming for maximum efficiency, ensuring a high energy saving and relative reduction in operating costs.
The range consists of 6 sizes for the SHE / HHE series equipped with asynchronous motors and 8 sizes for the SHE / HHE-ECM series equipped with innovative brushless motors. The units are suitable for horizontal installation, with an air flow range from 320 a 4700 m3/h and recovery efficiencies up to over 90%.
The wide range of capacities and configurations allows to satisfy multiple application requirements for different areas ranging from residential to industrial area. 
These series of heat exchanger have been suitably sized to comply with the requirements of the European Ecodesign Directive (EU Regulation 1253/14).
SHE: 400-4700; HHE: 320-4300 m3/h
SHE: 75-86% ; HHE: 78-90%
Identity
Structure:
structure made of pre-painted sheet metal with sandwich-type removable panels of average thickness 23mm, with thermo-acoustic insulation in injected polyurethane with a density of 45 kg/m3.

Heat exchanger:
air-to-air heat recovery unit in aluminum, static type with countercurrent flows with a close pitch with achievable performances up to over 90%. 
The recuperator is removable from below for the model size 1, and laterally for all other sizes.

Air filter:
standard air filters with efficiency ISO 16890 and PM1 55% (F7 EN 779) in supply and PM10 55% (M5 EN 779) in recovery, laterally removable. These filters use a composite polypropylene medium designed for use in systems with high air volumes, reduced installation spaces and limited load losses.

Fan section:
fresh air inlet and exhaust fans of centrifugal type with double intake with forward blades with directly coupled motor, designed to optimize the air flow through the internal components minimizing noise.
The ECM versions are equipped with innovative high-efficiency brushless motors.

Condensate drain pan:
made of galvanized steel plate with water drain connection downwards.

Differential pressure switches:
fresh air filter pressure switch with visual warning of dirty filter alarm supplied, also available on request an additional pressure switch on the expulsion side.

By-pass free cooling:
the unit is equipped with a partial by-pass of the recuperator for defrosting or free cooling, with a manual opening system (supplied with standard) or an automatic servo control (optional). The automatic version can be controlled by an external consent or even by an integrated electronic management.

Installation:
the range is suitable for horizontal installation with application in false ceilings or similar. Depending on the configuration of the distribution network and the space available, it will be possible to choose between two possible configurations named A or B.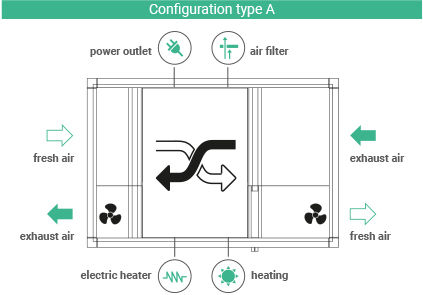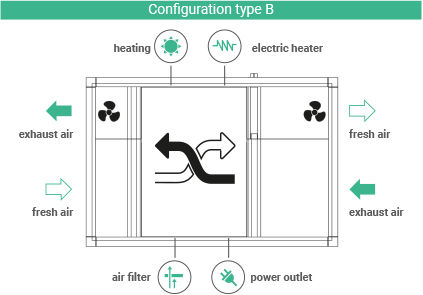 Applications

Commercial

Hospital

Museum

Industrial
Certifications
Download
Product Catalog
Installation Manual
CAD
Subscribe to the newsletter
Stay always up to date on all
the news and the initiatives of Aliseo Group